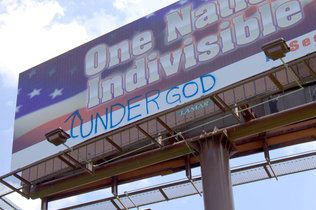 I like what this school has done, but it is only a temporary solution. The sad truth is, handfuls of crazy people like this "Americans United" group will eventually go through the courts and get their way. The only real solution to this ongoing problem is school vouchers.
Cherokee County, Georgia took a stand today against people outside of their community telling them what to do. A group of folks from Washington called "Americans United for the Separation of Church and State" insists that the good people of Cherokee County stop holding it's school graduations at a local church. They have threatened to sue the local school board if they continued this practice. The same school board voted unanimously to tell the "Americans United" group to mind their own business. After reading some of the reports from the media, I have come to the following conclusion: The national media seems to be advocating people from one place demanding change in another, while the local media stands behind the people and supports their decision. I also read some of the comments on CNN.com's "religion" blog and was generally appalled. There were many comments that seemed to be against the people of Cherokee County deciding what's best for Cherokee County, yet none of them were from there. We live in an extremely connected world today, but we should never forget, what's good for one man may not be for another. If you don't like the policies of Cherokee County, Georgia, don't move there! That seems to be the best course of action. And if you don't like the policies where you live, change them for the good. Just remember, not everyone will agree with you, and if you're in the minority in your beliefs, you may just have to move to where you're not... Cross Posted
Here is what the loony left is saying
There are bound to be some lovely mosques nearby. Would it present a problem for the students to graduate in one of those venues?




In this church last year, it was reported that they did not cover the large cross above the stage, and some report that the minister of the church greeted the students with an invitation to join the church, etc. What if similar things were to happen at a mosque?




Or if an atheist came on stage and told them that God does not exist?




The outrage from either instance would be sharp and immediate. Why does it seem there is a double standard for Christianity?
How about this? We could take that seven or eight thousand that the schools are getting to educate each kid, and then let kids spend it at the private school of their parents choosing. What would be wrong with that?
You could send your kid to the "Commie Atheist School Of Homo Erotica." There they could teach your kids how to bash America, and could make the communist manifesto required reading. Maybe even make ass-less chaps the school uniform!
What do you think? Instead of bomb-fires and football you could strike yoga poses and hold global warming séances. It would be everything you ever dreamed of. Well why not?
The liberal moon-bats would never even consider school vouchers, and here is why.
It is not about them getting to do what they want. It is all about them forcing you and your kids to do something they don't approve of. They want to indoctrinate your kids, plain and simple.
This needs to be a high priority for the new conservative majority in congress.