Armed EPA raid in Alaska sheds light on 70 fed agencies with armed divisions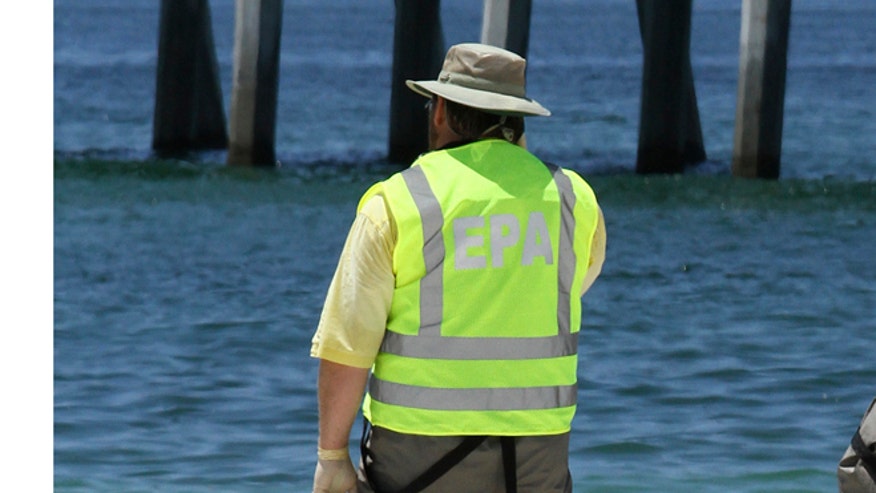 The recent uproar over armed EPA agents descending on a tiny Alaska mining town is shedding light on the fact that 40 federal agencies – including nearly a dozen typically not associated with law enforcement -- have armed divisions.
The agencies employ about 120,000 full-time officers authorized to carry guns and make arrests, according to a June 2012
Justice Department report
.
Though most Americans know agents within the Drug Enforcement Agency and the Federal Bureau of Prisons carry guns, agencies such as the Library of Congress and Federal Reserve Board employing armed officers might come as a surprise.
The
incident that sparked
the renewed interest and concern occurred in late August when a team of armed federal and state officials descended on the tiny Alaska gold mining town of Chicken, Alaska.
The Environmental Protection Agency, whose armed agents in full body armor participated, acknowledged taking part in the Alaska Environmental Crimes Task Force investigation, which it said was conducted to look for possible violations of the Clean Water Act.
However, EPA officials denied the operation was a "raid" and didn't address speculation about whether it was connected to possible human and drug trafficking.
"Imagine coming up to your diggings, only to see agents swarming over it like ants, wearing full body armor, with jackets that say "POLICE" emblazoned on them, and all packing side arms," gold miner C.R. Hammond told the Alaska Dispatch.
The other federal agencies participating in the operation were the U.S. Fish and Wildlife Service, the Bureau of Land Management, the Coast Guard, the National Oceanic and the Atmospheric Administration and the U.S. Park Service.
The Fish and Wildlife Service, Bureau of Land Management and Park Service are among 24 federal agencies employing more than 250 full-time armed officers with arrest authority, according the federal report, which is based on the 2008 Census of Federal Law Enforcement Officers.
The other 16 agencies have less than 250 officers and include NOAA as well as the Library of Congress, the Federal Reserve Board and the National Institutes of Health.
The number of federal department with armed personnel climbs to 73 when adding in the 33 offices of inspector general, the government watchdogs for agencies as large as the Postal Service to the Government Printing Office, whose IG has only five full-time officers.
The EPA defended its use of armed officers, after the Alaska incident.
"Environmental law enforcement, like other forms of law enforcement, always involves the potential for physical, even armed, confrontation," the agency said.
But Alaska Gov. Sean Parnell has already ordered an investigation, saying "This level of intrusion and intimidation of Alaskans is absolutely unacceptable."
In addition, Alaska Sens. Lisa Murkowski, Republican, and Mark Begich, Democrat, have inquired about the incident.
Murkowski said purported concerns about rampant drug and human trafficking in the area sounded "wholly concocted" to her.
"This seems to have been a heavy-handed and heavy-armor approach. Why was it so confrontational? The EPA really didn't have any good answers for this," she told the newspaper.
This is not the first time armed EPA guards have been accused of intimidating behavior.
In May 2012, North Carolina resident Larry Keller was visited by armed EPA agents after sending an email to Al Armendariz, the regional administrator who was video-taped saying his enforcement strategy was to "crucify" executives from big oil and gas companies.
"The charter of the EPA is to protect the environment and public, not to act as a quasi federal police department," Keller said after the brief but tense exchange with agents about whether the missive might seem suspicious.
The Department of Homeland Security employs nearly half of all federal officers, through Customs and Border Protection and Immigrations and Customs Enforcement, the most recent statistics show. The statistics also show the number of CBP officers increased by 33 percent from 2004 to 2008. The number for ICE was 20 percent over the same period.
Meanwhile, the four largest Interior Department agencies employed fewer officers during that time, including the Park Police, which employed 547 officers in 2008, 11 percent less than four years earlier, according to the 2012 report.


Read more: http://www.foxnews.com/politics/2013/09/14/armed-epa-agents-in-alaska-shed-light-on-70-fed-agencies-with-armed-divisions/?intcmp=latestnews##ixzz2f6ROBMHm
---------------------------------------------------------------------------------------------------
I just checked the U.S. Constitution, and I couldn't find anything about the Environmental Protection Agency having the right to bear arms. If anyone wants to take guns away from anybody, they can start there. Better yet let's do away with the EPA altogether. While we're at it, lets eliminate at least 90% of the following useless, money wasting government organizations.
Personal Income Tax Division of the IRS
National Endowment for the Arts (Can't sell your art privately?)
National Wild Horse and Burro Program (Huh?)
FEMA (a corrupt organization if there ever was one--leave it to charities)
FDIC (a sham program with only a fraction of funds needed to save banks)
Freddy Mac & Fannie Mae (helped cause present economic conditions)
Administration on Aging (AoA)
Administration for Children and Families (ACF)
Administration on Developmental Disabilities (ADD)
Administration for Native Americans (ANA)
Family and Youth Services Bureau (FYSB)
Healthy Marriage Initiative (HMI)
Low Income Home Energy Assistance Program (LIHEAP)
Office of Child Support Enforcement (OCSE)
Office of Community Services Block Grant (OCS)
Office of Family Assistance (OFA)
Temporary Assistance for Needy Families (TANF)
Office of Refugee Resettlement (ORR)
President's Committee for People with Intellectual Disabilities (PCPID)
Agency for Healthcare Research and Quality (AHRQ)
Agency for Toxic Substances and Disease Registry (ATSDR)
Centers for Medicare and Medicaid Services (CMS)
Health Resources and Services Administration (HRSA)
Indian Health Service (IHS)
National Institutes of Health (NIH)
Office for Civil Rights (OCR)
Office of Minority Health (OMH)
Program Support Center (PSC)
Substance Abuse and Mental Health Services Admin.(SAMHSA)
Office of the National Coordinator for Health Information Technology (ONCHIT)
Center for Faith-Based and Community Initiatives (CFBCI)
Employees' Compensation Appeals Board (ECAB)
Employment Standards Administration (ESA)
The Office of Labor-Management Standards (OLMS)
Office of Workers' Compensation Programs (OWCP)
Wage and Hour Division (WHD)
Employment and Training Administration (ETA)
Employee Benefits Security Administration (EBSA)
Bureau of East Asian and Pacific Affairs
Bureau of Economic and Business Affairs
Bureau of Educational and Cultural Affairs
Internet Access and Training Program
Bureau of European and Eurasian Affairs
Bureau of Human Resources
Bureau of Information Resource Management
Bureau of Intelligence and Research
Bureau for International Narcotics and Law Enforcement Affairs
Bureau of International Organization Affairs
Bureau of International Security and Nonproliferation
Bureau of Legislative Affairs
Bureau of Near Eastern Affairs
Bureau of Oceans and International Environmental and Scientific Affairs
Bureau of Overseas Buildings Operations
Bureau of Political-Military Affairs
Bureau of Population, Refugees, and Migration
Bureau of Resource Management
Bureau of South Asian Affairs
Bureau of Verification, Compliance, and Implementation
Bureau of Western Hemisphere Affairs
Counterterrorism Office (which produces the Patterns of Global Terrorism report)
National Foreign Affairs Training Center (former Foreign Service Institute)
Office of International Information Programs
Office of the Legal Adviser
Office of Management Policy
Office of the Science and Technology Adviser
Office to Monitor and Combat Trafficking in Persons
Office of War Crimes Issues (They blew the Bush war crimes)
Car Allowance Rebate System (Cash for Clunkers)
Cash for Appliances Program
Bureau of the Public Debt
Community Development Financial Institution Fund (CDFI)
INDEPENDENT AGENCIES Of the U.S. GOVERNMENT;
National health and insurance system
African Development Foundation
Advisory Council on Historic Preservation (ACHP)
Agency for International Development (USAID)
American Battle Monuments Commission (ABMC)
Appalachian Regional Commission (ARC)
U.S. Arctic Research Commission (USARC)
Central Intelligence Agency (CIA) (EVIL WAR-MONGERS)
US Commission on Civil Rights (USCCR)
Commission on Security and Cooperation in Europe (CSCE)
Corporation for National and Community Service (CNCS)
Court Services and Offender Supervision Agency (CSOSA)
Delaware River Basin Commission (DRBC)
Equal Employment Opportunity Commission (EEOC)
Export-Import Bank of the United States (ExIm)
Farm Credit Administration (FCA)
Federal Communications Commission (FCC)
Federal Election Commission (FEC)
Federal Maritime Commission
Federal Mine Safety & Health Review Commission (FMSHRC)
Federal Reserve System (a pseudo government, semi-private organization)
Federal Retirement Thrift Investment Board
Federal Trade Commission (FTC)
Foreign Claims Settlement Commission of the United States (FCSC)
General Services Administration (GSA)
Institute of Museum and Library Services (IMLS)
Inter-American Foundation (IAF)
International Trade Commission (ITC)
Learn and Serve America (LSA)
National Capital Planning Commission (NCPC)
National Credit Union Administration (NCUA)
National Endowment for the Humanities (NEH)
National Ice Center (NIC)
National Labor Relations Board (NLRB)
National Railroad Passenger Corporation (Amtrak) (NRPC)
National Science Foundation (NSF)
National Transportation Research Center (NTRC)
Office of Government Ethics (OGE)(LOT OF GOOD THEY DO)
Office of Personnel Management (OPM)
Pension Benefit Guaranty Corporation (PBGC)
Selective Service System (SSS)
Small Business Administration (SBA)
Susquehanna River Basin Commission (SRBC)
Tennessee Valley Authority (TVA)
United States Trade and Development Agency (TDA)
Financial crisis inquiry commission
Administrative Committee of the Federal Register
American Battle Monuments Commission
Appalachian Regional Commission
Architectural and Transportation Barriers Compliance Board (Access Board)
Arctic Research Commission
Arthritis and Musculoskeletal Interagency Coordinating Committee
Barry M. Goldwater Scholarship and Excellence in Education Foundation
Broadcasting Board of Governors
Chemical Safety and Hazard Investigation Board
Chief Acquisition Officers Council
Chief Financial Officers Council
Chief Human Capital Officers Council
Chief Information Officers Council
Citizens' Stamp Advisory Committee
Commission on International Religious Freedom
Commission on Security and Cooperation in Europe (Helsinki Commission)
Commission on the Intelligence Capabilities of the United States
Commission on the Intelligence Capabilities of the United States Regarding Weapons of Mass Destruction
Committee for Purchase from People Who Are Blind or Severely Disabled
Committee for the Implementation of Textile Agreements
Committee on Foreign Investments in the United States
Coordinating Council on Juvenile Justice and Delinquency Prevention
Delaware River Basin Commission
Endangered Species Committee
Federal Accounting Standards Advisory Board
Federal Advisory Committees
Federal Financial Institutions Examination Council
Federal Geographic Data Committee
Federal Interagency Committee for the Management of Noxious and Exotic Weeds (GOTTA LOVE THAT ONE!)
Federal Interagency Committee on Education
Federal Interagency Council on Statistical Policy
Federal Laboratory Consortium for Technology Transfer
Federal Library and Information Center Committee
Harry S. Truman Scholarship Foundation
Illinois and Michigan Canal National Heritage Corridor Commission
Indian Arts and Crafts Board
Interagency Alternative Dispute Resolution Working Group
Interagency Council on Homelessness
Interstate Commission on the Potomac River Basin
J. William Fulbright Foreign Scholarship Board
James Madison Memorial Fellowship Foundation
Japan-United States Friendship Commission
Joint Board for the Enrollment of Actuaries
Joint Fire Science Program
Migratory Bird Conservation Commission
Millennium Challenge Corporation
Mississippi River Commission
Morris K. Udall Foundation: Scholarship and Excellence in National Environmental Policy
National Bipartisan Commission on the Future of Medicare
National Indian Gaming Commission
Northwest Power Planning Council
Nuclear Regulatory Commission
Nuclear Waste Technical Review Board
Regulatory Information Service Center
Social Security Advisory Board
Susquehanna River Basin Commission
United States Holocaust Memorial Museum
Veterans Day National Committee
Vietnam Educational Foundation
White House Commission on Presidential Scholars – "Presidential Scholars Program"
White House Commission on the National Moment of Remembrance